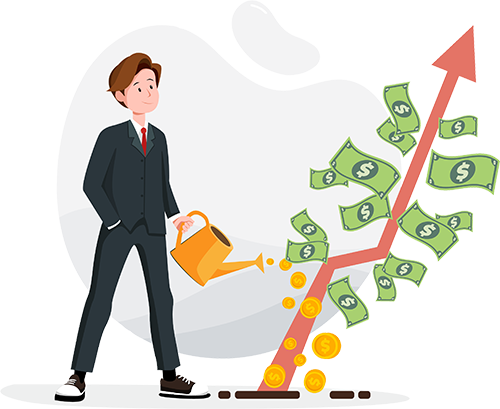 HYIP Software Design is the translation of your business model to a practically maintainable business.
The key factors to be considered for HYIP Software Design
HYIP software design is not a challenging design work or not a design work that takes a lot of research and study. But still, the HYIP software design needs quality time from the web designer and UI Design. In this article, we are here to discuss the Key Design factors that make out any HYIP Website unique and standard out.
The Branding Design
Designing of Logo and HYIP website banner and homepage is a challenge for the designer. The homepage should carry the brand value and the logo should be unique attractive and communicative. Often the designer's creativity makes it. But it is important for the HYIP Admin or Owner to communicate the business values to the Designer
The Homepage
Yes, the homepage is the Key Design Element, it should be attractive and communicative of Plans, ROI, Team, Business Model, and the Stats. A careful design consideration in any homepage design is its loading time. Make sure, as HYIP Business Maker, you communicate your loading preferences clearly to the designer.
The Plans
The main work of any web designer, while designing the HYIP website is to show the plans clearly. The plan section should communicate the Minimum and Maximum Deposit Range along with Interest Rates. A call to action button to a calculator or a dynamic hyip calculator component adds more value.
The Stats
The work of UI Designer is to clearly display the stats like Total Investment, Number of investors, ROI, Recent Payouts extra. This section adds the confidence factor and attracts investors.
Navigation
Without any doubt, the navigation design is the key success factor for any website. With HYIP Website design, the designer should be careful to include the navigation to all pages includes About Terms, Privacy, Disclaimer, and Contact. Any miss in the links to the pages will affect the user interaction.
Footer
Many designers consider the footer as a good space to work out the Social Links, Security Logos, Partner logos, and Payment Gateways.  A well-organized footer link adds value to the design.
Member Dashboard
HYIP Member Dashboard is clearly the design challenge. Designing a good-looking informative dashboard is always a time-consuming task. Being the HYIP Member Dashboard is the most important screen design, the designer needs to spend quality time in designing.  Also, the designer should make sure not to make information overkill.
Admin Panel
The success of any HYIP Script is the design of the Admin Panel. Mostly the admin panel is designed with an experienced design team and not been reworked by designers.
PhpHYIPManagerScript has a structured admin panel and serves the purpose of Easy Navigation and clean stats and information presentation.
Design can be a very key part and we highly encourage you to talk to our support team and take part in designing your unique hyip website with the powerful hyip script.
The mechanics of Advanced HYIP Software