Interestingly in LaraHYIP, you can't find the typical Plan Settings in Admin, you need the Super Admin Control (Access) to do the Plan Settings. We followed a simple theory of User Experience Design and separated One Time Settings to Super Admin and reduced the admin panel for Day-to-Day Admin Tasks. This gives more clarity in User Interface and as developer makes it easy for us to implement security layers and logging.
Go to Super Admin / Manage / Deposit Plans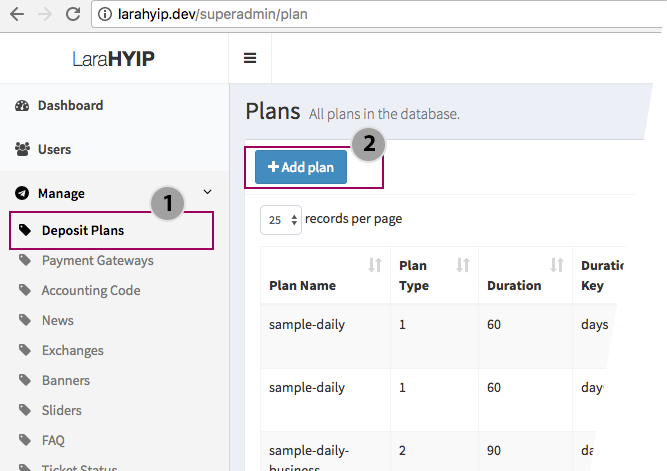 Add Plan name, Plan type, Duration & set Duration Key.
Supported Plan Types
Daily (all days)
Business Daily ( Only Monday to Friday) – no interest on Saturday & Sunday
Hourly
Weekly
Monthly
Quarterly
Yearly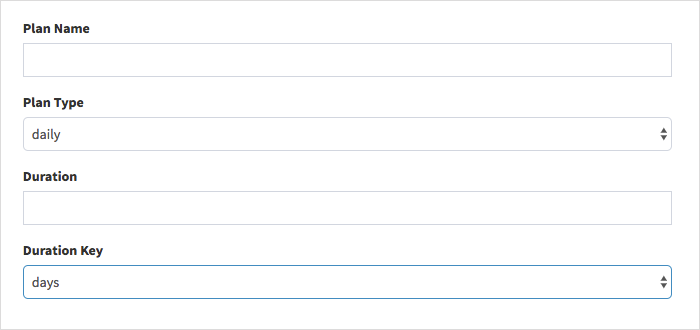 Fill-in the Min Amount, Max Amount, and Interest Rate ( in Percentage )

Set the Status for the Plan. Only the Plans in active state are available for members to deposit.

If you need any help in setting up the plans, contact the technical support team. Our team members will guide you to set the plan. Setting right Plan is essential for HYIP Success.
Related Tags : HYIP Plan Settings, HYIP Deposit Plan Settings, How set interest rate in HYIP ?, How to set active plans in HYIP ? How to set Minimum Maximum Deposit amount in HYIP Admin ?, How to set plan duration in HYIP ?, How to set Daily Plan in HYIP ? How to set Weekly Plan in HYIP ?, How to set a Plan for Business Day Only ?, How to set Monthly Plan ?, How to set Yearly Plan ?, How to set Long Term Plan in HYIP?
Keywords : HYIP Admin Guide, HYIP Administrator Guide,  How to Guide for HYIP, LaraHYIP Manual, HYIP Software Admin Settings